Introducing the BVNTM G-2000 System
Our proprietary, patent-protected system marries the flexibility and imaging quality of handheld ultrasound with the consistency and efficiency of automated systems. It works in conjunction with existing handheld ultrasound systems to improve the clinician's ability to navigate the breast, annotate newly found lesions, and track lesions found in a previous exam, all while ensuring completeness of breast volume coverage.
The Breast Volume Navigator (BVN™) System uses small precise sensors at the ultrasound probe and the patient's skin to continuously associate all ultrasound images and lesions with customized 3D maps of the patient's breast and axilla. In addition, the display time of the breast lesions is monitored to make sure small cancers cannot escape detection.
The technology behind the BVNTM automatizes multiple manual steps to allow the ultrasound operator to focus on the images and assists them in obtaining complete optimal exams documented with reproducible mapping of the breast and axilla lesions accurate within a few mm.
Accurate coverage of the breast volume with ultrasound.
Unlike manual ultrasound or the existing automated scanners, the entire breast volume coverage, from skin to chest, can be precisely tracked during scanning. Our System's accuracy for volume coverage reporting with deformable phantoms was over 95% in our NIH sponsored research study.
It displays personalized dynamic 3D maps of the breast for the operator. At the same time, the system continuously monitors the display time of ultrasound images to prevent missing small cancers.
Fast and precise lesion mapping and annotation
When an operator finds a small lesion in the breast or axilla, the system instantly generates its precise coordinates, recording the data in the format recommended by the American College of Radiology. This feature replaces multiple, time-consuming manual steps and imprecise values based on visual estimation. In addition, the probe coordinates and body position on the exam table are recorded for precise location guidance.
Lesion Indexing
The system assigns a unique identifier to each lesion in the breast and axilla, preventing errors when multiple images are analyzed.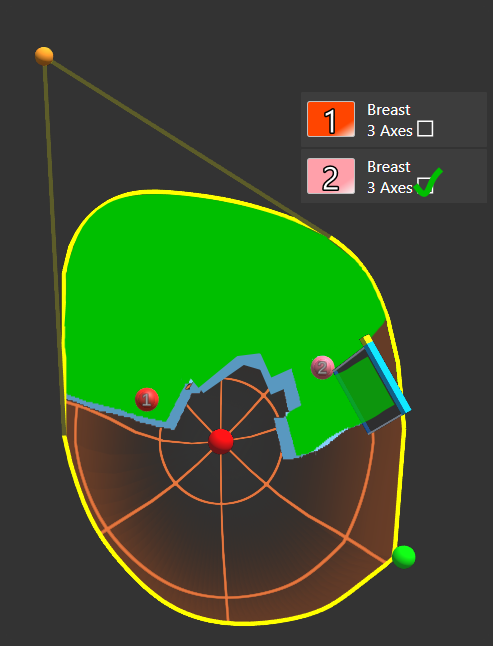 Precise navigation guidance
On-screen real-time guidance over realistic 3D maps enables the operators to rapidly localize and image small lesions in the breast and lymph nodes in the axilla after their initial detection. The proprietary spatial referencing to multiple anatomical landmarks addresses the challenge of breast deformability during exams and operators' performance variability to enable the precise and reliable localization within a few mm between exams and different ultrasound operators.
Automated graphic and numerical reports
The 3D breast maps showing the breast coverage with ultrasound and each lesion depicted on the map and in an easy-to-read list is saved with each exam to help radiologists generate error free final reports in less time.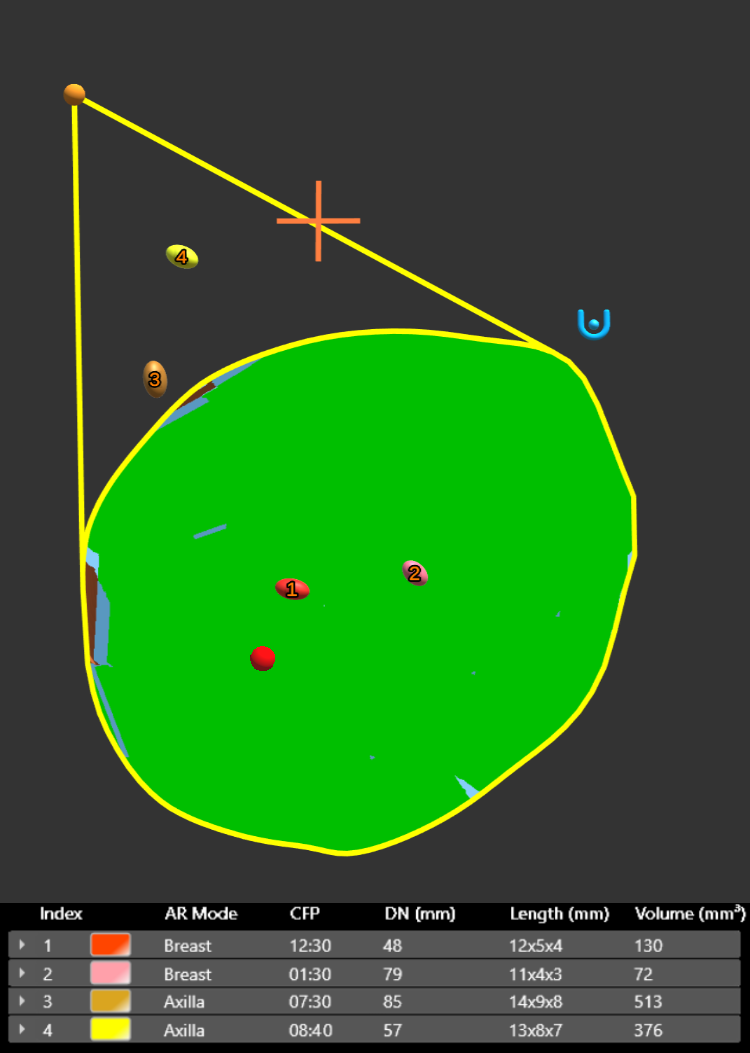 Teleultrasound with Live 3D Maps
Remote real-time communication and interpretation for more efficient use of Expert Radiologists, Sonographers and Women's access to optimal exams Anywhere in the World.
Universal Compatibility
The BVNTM System can integrate with existing ultrasound machines and medical image management and processing systems (MIMPS)* to reduce installation time and costs.
*MIMPS is the technology formerly known as picture archiving and communication systems (PACS) according to new classifications from the U.S. Food and Drug Administration (FDA).
Improved patient experience thanks to quicker exams and confidence in exam quality designed to maximize the detection of small cancers.
Improved radiologist experience with standardized, reproducible images linked to intuitive 3D maps and listing of measurements to generate structured and precise reports in less time.
Improved sonographer experience with the replacement of time-consuming and imprecise manual steps, and on-screen real-time guidance for confident and rapid lesion localization.
Reproducible axillary lymph nodes mapping can improve the marking of abnormal lymph nodes and surgical treatment for better breast cancer outcomes.
Standardization of entire breast ultrasound workflow with seamless integration.
Real-time display of dynamic 3D maps combined with ultrasound images can enhance the communication between the ultrasound operator and reporting physician for shorter exams with final assessments without the need for callbacks.
Providing value through multiple pathways
The BVNTM G-2000 is uniquely designed to automate breast ultrasound throughout the continuum of breast cancer care in a single device.
Regulatory
The Breast Volume Navigator (BVNTM) Model G-2000 received FDA clearance on May 26, 2021.

MetriTrack, Inc. operates in compliance with FDA 21 CFR 820 Quality System Regulation and Industry International Standard ISO 13485: 2016 Medical Devices – Quality Management Systems – Requirements for Regulatory Purposes.

Our Product Breast Volume Navigator (BVN™) Model G-2000 has been certified by Intertek for Electrical and EMC Safety in compliance with Medical Device Industry Standards.

Targeting Health Canada License and CE Mark.
Reimbursement
Ultrasound exams done with BVNTM Model G-2000 are covered under the current CPT codes for traditional ultrasound exams.
Interested in learning more about the BVNTM System?